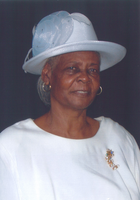 Margie Waters
Deaconess Waters was born October 24, 1938 in Bogalusa, LA. She is the daughter of the late Edward and the late Alice (Simmons) Otis.
Predeceased by her son, Gregg D. Waters. She is survived by her devoted husband of 58 years, Charles E Waters; 1 son, Charlie Waters; 1 daughter, Wanda (James Sr.) Hawthorne; 14 grandchildren; 5 great-grandchildren; 3 brothers, Edward Otis, Vernon Otis and Willie I. Otis; 5 sisters, Gladys (Gaster) Banks, Maudine Brown, Gloria Jean Long, Brenda Otis and Lautriciah Fowlks; sister-in-law, Josephine Scott; nieces, nephews other relatives, church family and friends.
Friends may call Saturday, April 20 from 10 AM-12 Noon at Aenon Baptist Church, 175 Genesee Street. The Funeral Service to Celebrate her life will immediately follow. Rev. Dr. Jonathan J.H. McReynolds, Pastor. Interment Riverside Cemetery.