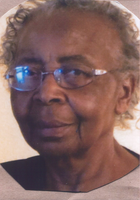 Sallie McKnight
ROCHESTER – March 25, 2018
Mrs. McKnight was born April 7, 1935 in Andrews, SC. She is the daughter of the late William and the late Minnie (McCullough) Alston.
She was employed by Strong Memorial Hospital Rochester, New York as a Patient Transporter.
Predeceased by her husband, Pedro McKnight Sr. and brother-in-law, Aron McKnight. She is survived by her two sons, Jacob (Maria Perez) McKnight and Pedro (Helen Swabe) McKnight Jr.; 4 grandchildren, Michael, Lydia, Darla and Jose (Rebecca); 4 great-grandchildren, Ilana, Yakira, Jayden and Amaris; 3 brothers, Moses (Brenda) Alston, Monroe (Priscilla) Alston and William (Oleatha) Alston; 3 sisters, Lilla Mae Graham, Rose Alston and Gladys Scott; dear friends, Lilla Mae Swails and Delsie Caviness; host of nieces, nephews, other relatives, church family and friends.
Friends may call Sunday, April 1, 5:00 PM – 8:00 PM at Jefferson Avenue Seventh Day Adventist Church, 309 Jefferson Avenue, Rochester, NY. Second wake will be held 10:00 AM – 12:00 Noon on Monday, April 2, 2018. The Funeral Service to Celebrate her life will immediately follow. Interment will be in Mt. Hope Cemetery.