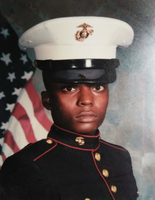 Mark Daniel Coney
ROCHESTER – Suddenly March 18, 2018. US Marine Veteran.
Mr. Coney was born December 2, 1970 in Geneva, NY. He is the son of Theodore A. Webb and the late Jacqueline Coney.
He served his country in the US Marines from July 1989 to July 1993. He was employed by City of Rochester.
Predeceased by his mother and son. He is survived by; his 3 sons; father; 2 sisters; other relatives and a host of friends.
Calling hours will be Friday, March 30 from 10AM-11AM at Latimer Chapel, 983 S. Plymouth Ave., Rochester, NY. The Funeral Service to Celebrate his life will follow.