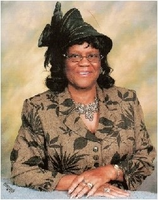 Pauline Daniels Pettway
ROCHESTER – February 28, 2018.
Mrs. Daniels Pettway was born October 10, 1933 in Cordele, GA. She is the daughter of the late Henry and the late Brooksie Mae (Campbell) Lucas.
She was employed by Eastman Kodak Co.
Predeceased by her husbands, Emmett Daniels Sr. and Clarence Pettway; son, Emmett Jr.; 1 great-grandchild; 2 sisters; 1 brother. She is survived by; 6 children, Janice (Daniel) Brown, Pamela James, Shlon (Ernest) Walker and Aaron Daniels all of Rochester, NY, Renee (James) Richardson of Houston, TX, Michelle (Ray) Scott of Atlanta, GA; 16 grandchildren; 23 great-grandchildren; 8 siblings; and other relatives and friends.
Burial will be in White Haven Memorial Park, Pittsford on Saturday, March 10. Friends may call Saturday 9:00 – 11:00 AM at Holy Trinity Church, 397 North Street. Life Celebration to follow. Interment, White Haven Memorial Park, Pittsford, NY.