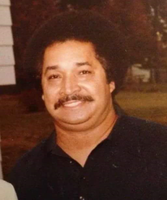 Frankland Johnson
BATAVIA, NY – March 16, 2018. US Army Veteran.
Mr. Johnson was born June 5, 1940 in Gretna, FL. He is the son of the late Phillip and the late Ruth N (Spicer) Johnson. He married Carolyn Y. Brandon.
He served in the US Army during the Vietnam War from 1962 to 1964. He was employed by Rochester City School District.
He is survived by his devoted wife: Carolyn Y. Johnson; 1 daughter, Nicole Y. Johnson; 2 grandsons, Nicolas and Justice Johnson; sisters, brothers, other relatives and friends.
Calling hours will be Wednesday, March 21 from 12:00 – 1:00 PM at the Latimer Chapel, 983 S. Plymouth Ave., Rochester, NY.
The Funeral Service to Celebrate his life will follow. Other services in Florida.