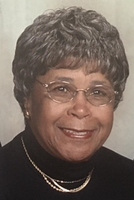 Margaret L. Brooken
Mrs. Brooken was born February 1, 1928 in Sanford, FL. She is the daughter of the late and the late Ethel (Grooms).
She passed away peacefully at the age of 90 on Monday, February 26, 2018 at home in the loving care of her family.
She is predeceased by her beloved husband of 48 years, Clyde Brooken Sr. and her youngest son, David A. Brooken. She is survived by daughters, Linda Brooken (George), Jacqueline Lawson (Gerald) and Debra Brooken; sons Daoud Abdullah and Michael Brooken Sr.; 20 grandchildren; 49 great-grandchildren; sister, Shirley Field (Robert); nieces, nephews, cousins and a host of other relatives, church family and friends.
No prior calling. Funeral Service, Tuesday, March 6, 2018, 11 AM at First Genesis Baptist Church, 292 Hudson Avenue. In lieu of flowers, donations to the Alzheimer's Association, 435 E. Henrietta Road, Rochester, NY 14620 in her name will be appreciated.