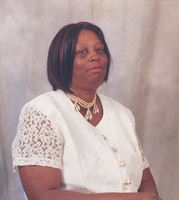 Roddie A. Pressley
Mrs. Pressley was born January 12, 1956 in Georgetown, SC. She is the daughter of the late Willie Joe and the late Mattie (Lewis) Nesmith.
She is survived by 7 daughters, Deloris, Tammy, Susan, Penny, Veronica, Darlean and LaTasha; 12 grandchildren & 2 great-grandchildren; 4 brothers, Joe, Lloyd (Marion), Harry Lee (Sarah Ann) and Ricky; 2 sisters, Mattie and Gloria; host of nieces, nephews, cousins, relatives, extended family and friends.
Friends may call Monday, February 19 from 5:00 – 8:00 PM at Latimer Chapel 983 South Plymouth Avenue, Rochester, NY. Additional Services and Burial in Kingstree, SC.