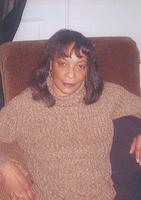 Mary Gail Mann
Mrs. Mann was born November 20, 1951 in Louisville, MS. She is the daughter of the late Willie and the late Lavern (Thomas) Jackson.
She is survived by her longtime companion, William McGhee; 2 daughters, Kimberly Migliore and Tanya Coleman; 5 grandchildren; 3 brothers, Levi Jackson (Clara White), Prentiss Jackson and Ronnie Jackson; 1 sister, Lisa Jackson;4 aunts, Dr. Catherine Mason MD, Ruth Martin, Gladys Johns and Edna Frances brown; 2 uncles, Ennis Thomas and Jefferson Thomas; host of nieces, nephews, other relatives and friends
Friends may call Tuesday, November 28 from 5-8 pm at Friendship Baptist Church, 165 Beckwith Rd. The Funeral Service to Celebrate her life will be held 4:00 pm on Wednesday, November 29, 2017 at the Church. Rev. John Walker, Officiating. Interment at the convenience of the family.