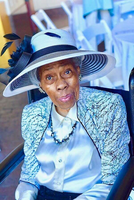 Vernice S. Warfield
Rev. Vernice S. Warfield was born February 2, 1915 in Texarkana, TX. She is the daughter of the late Arthur and the late Emma (Hooks) Smith.
She was employed by First Church Of God Rochester, NY as a Minister.
Predeceased by her husband, Robert E. Warfield Jr.
She is survived by her 3 children, Wilma Bryant, Thomas F. Warfield and Michael A. Warfield; 7 grandchildren, 13 great-grandchildren and 7 great-great grandchildren; 1 brother-in-law, Thaddeus (Blondine) Warfield; 1 sister-in-law, Mary Frances Warfield; nieces, nephews, other relatives and a host of friends.
Friends may call Wednesday 5:00 -8:00 PM at Latimer Funeral Home Chapel at 983 South Plymouth Avenue. Calling hours, Thursday 10:00 -11:00 AM at Mt. Olivet Baptist Church, 141 Adams Street. Funeral Service to follow.
Burial will be in White Haven Memorial Park, Pittsford, NY on Thursday, August 24.
Those who wish may contribute to Rev. Vernice Warfield Memorial Fund – check payable to: Rochester Area Community Foundation, 500 East Avenue, Rochester, NY 14607 or online: racf.org/warfield