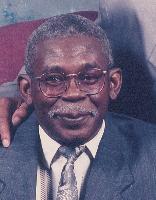 Lawrence Isaiah Dillard
Mr. Dillard was born November 29, 1939 in Rome, AL. He is the son of the late Will and the late MaryAnn (Cherry) Dillard.
Predeceased by his parents, son; sisters and brothers. He is survived by his former wife, Alice Dillard; 2 daughters, Alicia Dillard and Kimberly Dillard; 9 grandchildren, Tiffany, Etasha, Keishara, Brandon, Ashley, Kelia, Deljuan and Delisa, Jay; Great-grandchildren, Roderick, Jr., Brandon, Jr. and Tyler; 2 brothers, Bishop Henry (Rudean) Dillard and Chico (Jean) Dillard; 2 sisters Gladys Burke and Bertha (James) Smith Isreal; a host of nieces, nephews, cousins; other relatives; church family and a special thank you to his Aides for great care.
Friends may call Friday, November 11 from 5-8 pm at The House Of God, 654 N. Goodman St. The Funeral Service to Celebrate his life will be held 11:00 am on Saturday, November 12, 2016 at the Church. Interment Riverside Cemetery.