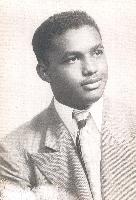 Ernest L. Turner
Mr. Turner was born October 26, 1929 in Coldwater, MS. He is the son of the late Thomas and the late Channie Mae (Thornton) Turner.
He served in the Army during the Korean war from 1951 to 1952.
Predeceased by his wife, Dorothy C. Turner; 4 sisters , Ruby Turner, Lottie Hill, Rochelle Lewis and Frankie Bell; He is survived by 1 son, Duane D. (Marianne) Turner of Chicago, IL; 2 daughters, Andrea J. Turner of Chicago, IL and Rhonda M. Turner of Rochester, NY; 3 grandchildren, Tyehimba, Ayinde and Asmina Turner; 1 sister, Lucinda Jackson of Rochester, NY; 1 sister-in-law, Rae Battle of Rocky Mount, NC; host of nieces, nephews, cousins, other relatives, church family and friends.
Friends may call Monday, September 12 from 11am-12Noon at Mt. Olivet Baptist Church, 141 Adams Street. Funeral Service immediately following. Rev. Rickey B. Harvey, Pastor. Interment, Oakwood Cemetery, Penfield, NY. In lieu of flowers, those who wish may contribute to Mt. Olivet Baptist Church Scholarship Fund or Alzheimer's Association, 435 E. Henrietta Rd. 14620 in memory of Mr. Turner.