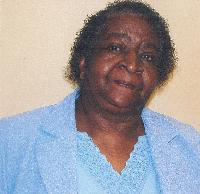 Rebecca Lee Washington
Ms. Washington was born January 18, 1942 in Andrews, SC. She is the daughter of the late G W and the late Hester (Gamble) Washington.
She is survived by her 4 children, Carlene Andrews, Lucious (Rosemary) Andrews Jr., Patrick Andrews & Cathy Washington; 7 grand & 6 great-grandchildren; 1 brother, Gus (Linda) Washington; 1 sister, Mary Alice Washington; nieces, nephews, cousins, other relatives, church family & friends.
Calling hours will be Saturday, September 10 from 1PM-2PM at Lake Avenue Baptist Church, 72 Ambrose St. Funeral Service to follow. Pastor Michael Ford Sr., Officiating. Interment, private